Cheese market Alkmaar - Attraction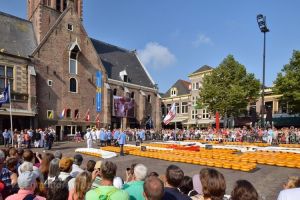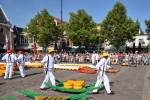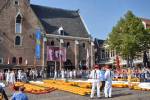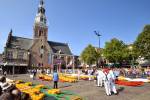 Alkmaar is mostly famous for its cheese market. From April until September, every Friday morning people trade cheese in a traditional way. During the cheese market the cheese carriers' guild takes care of the transport and the weighing of the cheese. First the Waagplein will be made ready and the cheeses will be put on display in long rows on the square, under the guidance of the market manager. At 10.00 a bell rings, and the cheeses will be carried towards the weighing scale 'De Waag', by the carriers. The cheeses will be approved and the deals will be made by means of bartering.
The cheese market with its beautiful entourage, a colorful happening which is by far the biggest attraction of Alkmaar. Annually the market will get around a hundred thousand visitors from all over the world. The oldest cheese weighing scale dates back from 17 June 1593, which is also the official creation date of the cheese carriers' guild. In the seventeenth century people would trade in cheese on Friday and Saturday from May to All Saints Day. One century later the market was already held 4 times a year, and yet another century later an average of 300 tons of cheese per market day would be sold. Since 1939, Alkmaar is the only city in the Netherlands which trades in cheese the traditional way.
Furthermore Cheese market Alkmaar is near the following sights: Het Hollands Kaasmuseum (±40 m), Biermuseum De Boom (±80 m) & Stedelijk Museum Alkmaar (±500 m).
For information:
Waagplein, Alkmaar
web.
Website