Abbey of Egmond
He current abbey dates back to 1935 when monks came from Oosterhout (North Brabant) to Egmond to breathe new life into the Benedictine order that flourished here during the Middle Ages. During its history, Egmond Abbey developed into a religious and cultural centre and grew to become the region's most important Benedictine abbey. An abbey shop now sells a variety ...
Slotruïne
De fundamenten met daarop een stukje ruïnemuur van de Rentmeesters toren zijn gratis toegankelijk. Hieraan is de plattegrond van het kasteel nog goed te herkennen zoals de kasteeltorens en de sleuven van de contragewichten van de twee ophaalbruggen. Er is een oude waterput en de rechthoekige binnenplaats is ook goed te zien. Wat je niet ziet is hoe reusachtig groot het ...
Lighthouse J.C.J. van Speijk Egmond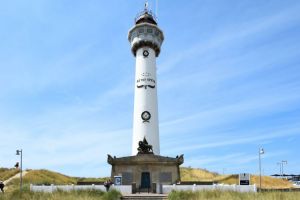 He proudly perched high on the dunes: our lighthouse, called after JCJ van Speijk. The Lieutenant van Speijk blew himself and the crew up in the port of Antwerp in 1831, so he did not felt into the hands of the Belgians. For centuries the Egmond lighthouse is a beacon for sailors. Yet every night the Van Speijk shines his familiar light ...