Museum of Egmond
The Museum of Egmond shows the past of the three Egmonds: Egmond-Binnen, Egmond aan den Hoef and Egmond aan Zee. A story that has ...
Stedelijk Museum Alkmaar
This museum is a treasure trove of art and history, perfect for enthusiasts of both modern and historical art. What to Expect at Stedelijk Museum Alkmaar?; - Versatile ...
Het Hollands Kaasmuseum
The Dutch Cheese Museum is housed in the monumental Weigh house, in the centre of Alkmaar, a city famous for its cheese. The preparation of dairy products throughout the centuries, trade and ...
Museum Kranenburgh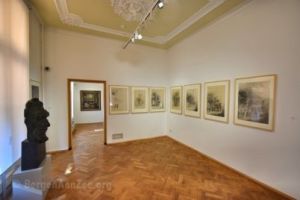 Het museum beschikt over een vaste collectie van schilderijen en grafische kunst afkomstig van kunstenaars die – ruim genomen – behoorden tot de zogenaamde Bergense School. Rondom het museum ...
Biermuseum De Boom
Bier is al een paar duizend jaar de populairste alcoholhoudende drank in onze streken. Maar hoe wordt het gebrouwen? Wat is mouten en waarom is gist zo belangrijk? Nationaal Biermuseum De ...
Galerie Bernard van Welsenes
Oude Prinsweg 25, Bergen
tel. +31 725 813 605
Motoren Museum
Schulpweg 19, Nieuwe Niedorp
tel. +31 226 413 571
Galerie ApArt
Breelaan 5a, Bergen
tel. +31 725 816 625
Museum Broeker Veiling
Museumweg 2, Broek Op Langedijk
tel. +31 226 313 807
Atelier Harry Kuyten
Heereweg 305, Groet
tel. +31 725 091 407
Het Rijper Museum
Tuingracht 13, De (noord-Holland)
tel. +31 299 671 286
Gemeentemuseum het Sterkenhuis
Postbus 175, Bergen
tel. +31 725 897 028
Galerie Jaap Tol
Kruisweg 26, Bergen
tel. +31 725 812 279