Beverwijkse Bazaar - Sight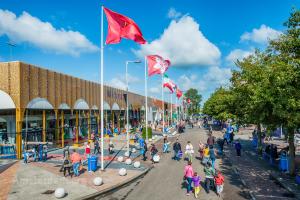 A bustling market that offers a unique shopping experience with a blend of cultures, products, and flavors. Known as the largest indoor market in Europe, the bazaar attracts visitors from far and wide.
What to Expect at the Beverwijkse Bazaar?
Diverse Markets: The Bazaar consists of various markets, each with its own character. From the Oriental Market to the Black Market, from the Grand Bazaar to the Computer Market, there's something for everyone.
World Cuisine: Taste dishes from around the world at one of the many food courts. Whether you fancy a Turkish kebab, Surinamese roti, or Dutch poffertjes, the choices are enormous.
Unique Products: Discover a treasure trove of unique products: clothing, electronics, cosmetics, household items, and much more. Many products can be found here at very attractive prices.
Entertainment and Activities: In addition to shopping and dining, the Beverwijkse Bazaar also offers entertainment and activities for the whole family, including live music and children's animation.

A Multicultural Experience at the Beverwijkse Bazaar
Whether you're looking for special bargains, want to savor worldly flavors, or simply want to experience a unique day out, the Beverwijkse Bazaar offers an unforgettable experience.
For information:
Montageweg 35, Beverwijk
web.
Website